Rivals National Columnist Mike Farrell is here with the five most important transfer quarterbacks to watch with their new teams, some lower rated players set to make a splash in the NFL Draft and two teams in each power conference not holding their weight.
1. FIVE TRANSFER QUARTERBACKS THAT WILL IMPACT IN 2021
The transfer portal has changed the college football world and the quarterback position is at front and center. Transfer quarterbacks like Baker Mayfield, Kyler Murray and Joe Burrow have impacted the college football landscape in a major way and now, as transferring becomes easier, we'll see quicker changes like we've seen at Ohio State and Georgia. So who do we watch for this season? Here are five I like…
1. McKenzie Milton, Florida State — Milton has a year to give and the Seminoles aren't good, but he's so important to the culture change that Mike Norvell is instilling in Tallahassee. Milton is a vocal and experienced leader, and there aren't many QBs that are more fun to watch out there.
2. Jack Coan, Notre Dame — Notre Dame returns enough talent to make another playoff run but Ian Book will need to be replaced and Coan has experience and showed flashes at Wisconsin. Can he live up to that four-star billing out of high school?
3. Alan Bowman, Michigan — Cade McNamara is back and J.J. McCarthy is coming but Bowman has the most experience of the group and he can put up numbers when healthy. The QB room isn't deep at Michigan so he will impact.
4. Ryan Hilinski, Northwestern — Peyton Ramsey is gone, no one knows if former five-star Hunter Johnson is any good but we have seen Hilinski in action. I'm still unsure how he fell so out of favor at South Carolina but he's the guy I expect to lead the defending Big Ten West champs.
5. Tyler Shough, Texas Tech — Texas Tech hasn't been a factor in the Big 12 for awhile and I like incoming freshmen Behren Morton but something about Shough intrigues me. If he can improve his accuracy he could put up big numbers in Lubbock.
*****
2. NFL DRAFT PROSPECTS THAT OUTPLAYED THEIR RANKING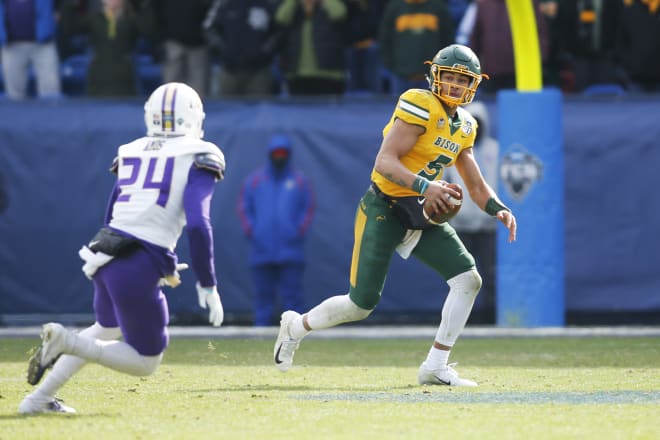 The NFL Draft is a bit of a report card. I tell people I shouldn't be expected to predict the development of a 17-year-old prospect out of high school through three, four or sometimes even five years of college to the NFL Draft, but if I'm going to brag on the hits I'm going to take the losses on the chin. These players could make some of us look dumb.
QB Zach Wilson, BYU — A three-star rating out of high school isn't horrible, especially for a kid from Utah whose biggest offer was arguably from Iowa, but he's going to be the No. 2 pick in the NFL Draft. That's not a low three-star.
QB Trey Lance, North Dakota State — Lance was seen by some Power Five programs, especially his home state school Minnesota but everyone passed. Why? He was a late bloomer in high school and playing catcher in baseball led to a 3/4 delivery in football that was ugly. He's since fixed those mechanics and flourished at the FCS level. Now his two-star ranking looks bad.
OT Christian Darrisaw, Virginia Tech — This one hurts as Darrisaw was a two-star out of high school and will be a first-round pick in April. However, we will hang our hat on our four-star ranking out of prep school where he really developed. Darrisaw added 30 pounds in prep and became much more athletic but haters will point to that high school rating.
DE Kwity Paye, Michigan — The knock on Paye out of high school? He was more of an athlete than a football player. The knock on him now is the same but his athleticism is such that he will be too tempting to pass on in round one. He was a high three-star and I saw him at the Under Armour Game but nothing screamed four-star to me.
LB Zaven Collins, Tulsa — Collins was a massive athlete who played safety and quarterback in high school and didn't really have a position at the next level for most programs. But Tulsa took him as a linebacker and now looks very smart for doing so. Collins should end up as a two-star first-rounder.
*****
3. POWER FIVE PROGRAMS THAT HAVE HAD A MISERABLE DECADE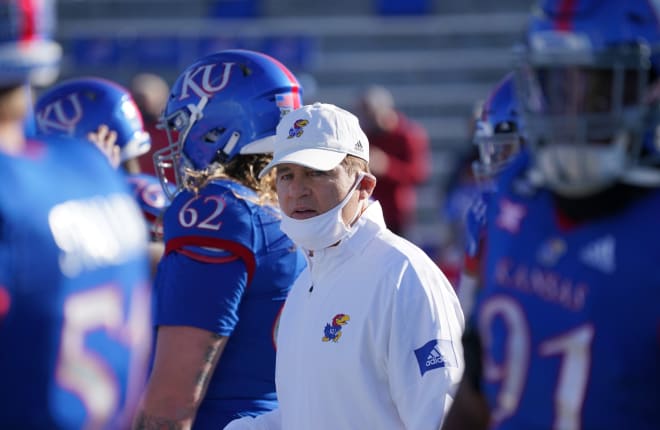 I've been researching some numbers for Power Five teams as far as quarterback development goes and it obviously led me to some win-loss records. And it's clear to me, each Power Five conference has a couple of programs that have really been an embarrassment over the last decade.
Big Ten: Rutgers, Maryland — Both posted winning seasons in their first year in the Big Ten (2014) but it has been ugly since. This past season was the only other time since that first year that neither Rutgers nor Maryland finished last in their own division. They can thank Michigan State for that. But Rutgers still went 3-6 and Maryland 2-3. The best record since 2014? Maryland's 6-7 mark in 2016.
SEC: Vanderbilt, Arkansas — Thanks to the three-year run of James Franklin it wasn't all horrible news for Vandy but before he arrived and especially after the Commodores have been an embarrassment. Arkansas started off the decade with as many wins as Alabama (10 in 2010) but things fell fast. The Razorbacks became bottom dwellers in 2014 and stayed there with the worst years under Chad Morris who didn't win a conference game in two seasons. Arkansas had a couple of years out of the basement under Bret Bielema but not enough to surpass any other SEC team in my eyes. Tennessee was very close, however. Arkansas had 61 wins in the decade while the Vols had 66. Kentucky had 63 and were in the mix as well.
ACC: Wake Forest, Syracuse — Remember when Wake was surprisingly good in the late 2000s? That was a long time ago and the Deacons haven't been great since. You'd think Duke would be here if you had to pick a team from North Carolina but David Cutcliffe helped that with a few good years. This past season ended a streak of four winning seasons for Wake but the early part of the decade was bad. As for Syracuse, I still don't know where that 10-3 season in 2018 came from because the Orange have been awful otherwise. Their 2013 debut started them off okay with a 7-6 record but every other season has been a losing one aside from that 2018 anomaly.
Pac-12: Oregon State, Cal — The Beavers have been losing consistently since a seven-win season in 2013 but Cal surprises me a bit. The Bears went 8-5 in 2019 and 7-6 in 2018 but it's been rough outside of those two seasons. The beginning of the decade hurt as they had three of four losing seasons. Washington State edged them out thanks to the Mike Leach years. The 1-11 2013 season was one of the worst ever at Cal.
Big 12: Kansas, Texas Tech — Kansas is an obvious one as the most wins in a season they posted from 2010 to 2020 is three and they had one three-year run of 3-33. That's not a misprint. Texas Tech narrowly edges out Iowa State as the Cyclones can thank Matt Campbell for saving them from constant disgrace. Texas Tech hasn't had a winning season since 2015.
Source: Rivals.com