National Recruiting Director Mike Farrell's Three-Point Stance is here with some thoughts on recent transfers, a look at five teams with a lot to prove in 2021 and the best true freshmen tight ends from the 2020 season.
1. BIG ADDITIONS TO THE TRANSFER PORTAL
We have seen some big transfers hit the transfer portal in recent weeks. Here are a few that stand out to me.
LB Mike Jones Jr., LSU — While this may not be a huge loss for Clemson from a production standpoint Jones showed a bit this past season with 26 tackles and he is a need position for LSU.
WR Tre'Von Morgan, Kentucky — Morgan has big play ability and the downfield speed to make this passing offensive a bit more dangerous. He had a long touchdown for Michigan State as a freshman.
OL Jahmir Johnson, Texas A&M — He's a plug-and-play OL for a team losing a ton of talent at the position.
QB Will Levis, Kentucky — Levis can move around and extend the play and showed a few flashes at Penn State.
LB Jack Lamb, Colorado — Lamb has always been a sure tackler and hard-nosed player. He has an opportunity to play immediately and impact at Colorado after limited action at Notre Dame.
WR Ja'Lynn Polk, Washington — Polk had 22 catches and two scores at Texas Tech as a freshman and can be a reliable option for the Huskies.
TE Arik Gilbert, Florida — It doesn't get much bigger than this out of the portal and Gilbert has every bit as much talent as Kyle Pitts. But can he overcome off-field issues that led to his departure from LSU?
DE Anthony Leota, Auburn — Leota showed he could rush the passer at Northwestern in spots with 6.5 sacks in two seasons. He should get more of an opportunity at Auburn.
QB Jordan McCloud, Arizona — McCloud can run but showed much improvement as a passer last year at USF and as a decision-maker.
RB Zach Charbonnet, UCLA — I have no clue why he fell out of favor at Michigan but he showed there early how good he can be.
RB Eric Gray, Oklahoma — Could this be the get the Sooners need to take them to the playoff? The former Tennessee back has that kind of talent.
RB Keaontay Ingram, USC — If he can stay healthy and they run the ball, he can live up to expectations he fell short of at Texas.
DB Jalen Green, Mississippi State — From Texas to the SEC, Green has the ability to be an immediate starter for a defense that has some secondary talent.
2. FIVE TEAMS UNDER PRESSURE IN 2021
Here are five programs that are under pressure heading into the 2021 season.
Florida — The Gators lose a ton of talent at wide receiver and lose Kyle Pitts at tight end and Kyle Trask at quarterback. And, to the dismay of many fans, Todd Grantham is back as the defensive coordinator. After an 8-1 start the Gators lost their last three games last fall, including a bad loss to a very depleted LSU team. Florida won the SEC East last year but still finished with four losses.
Georgia — UGA started the season with a massive quarterback problem that was solved by JT Daniels eventually. The Bulldogs finished with four-straight wins including a hard-fought battle with Cincinnati and an overall 8-2 record. So why do they have something to prove? Because they will once again be the heavy favorite to win the SEC East and anything short of that will be considered a disaster.
Michigan — Penn State could easily be on here as well or in place of Michigan but with all the coaching changes and Jim Harbaugh staying in Ann Arbor I think the Wolverines have the most to prove. The defense was blamed but the offense wasn't good at all either and another losing season would be a massive problem for fans.
Texas — Steve Sarkisian is the new head coach at Texas but he won't get much of a break when it comes to adjustment time. This is a team with a lot of young talent and fans are expecting a push for the Big 12 title right away. This season could tell us very quickly whether we have another Tom Herman situation brewing or if Sark is the answer.
USC — USC sputtered to the finish in a bad loss to Oregon in the Pac-12 title game and so many fans want Clay Helton gone that anything but a playoff run might not be enough. And he needs to do that replacing a ton of offensive firepower at receiver.
3. THE BEST TRUE FRESHMEN TIGHT ENDS FROM 2020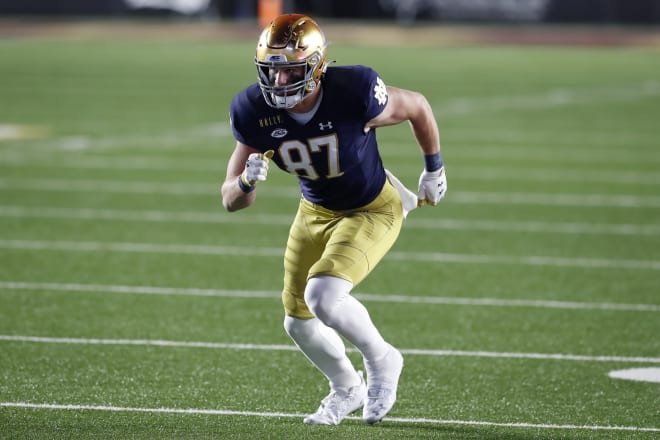 I continue my look at the best true freshmen of the 2020 season with five standout tight ends.
1. Michael Mayer, Notre Dame — The massive tight end had some drops but with his frame and ability to move you can see why some are comparing him to Rob Gronkowski already.
2. Arik Gilbert, Florida — Gilbert was off to an amazing start at LSU with 35 catches for more than 350 yards and two scores until he left the team. Now he's transferring to Florida where he could replace Kyle Pitts in the offense.
3. Darnell Washington, Georgia – The massive target had only seven catches for 166 yards but he could be a scary offensive threat when paired with an accurate quarterback.
4. Taylor Thompson, Charlotte — With 12 catches for 190 yards, Thompson showed some serious potential in his first year.
5. Mikey Henderson, Oklahoma — The H-Back had 12 catches and was also effective with nine rushes.
Source: Rivals.com