Rivals National Columnist Mike Farrell is here with five programs that should improve the most next season, the 10 best NFL players who were two-stars out of high school and his take on an interesting ESPN article.
1. FIVE TEAMS THAT WILL IMPROVE SIGNIFICANTLY IN 2021
Here are the five teams that will improve the most from 2020 to 2021.
1. Michigan – The Wolverines went 2-4 last season and one of those wins was a three overtime fight against Rutgers. Things have to get better, we know that. How much? That's the big question. Let's assume Michigan beats Western Michigan, Northern Illinois, Rutgers, Nebraska and Michigan State. That's five wins there. Jim Harbaugh's team would need one more among Washington, Wisconsin, Northwestern, Indiana, Penn State, Maryland and Ohio State to reach a bowl and that should happen. While a 7-5 record isn't pretty, it is definitely possible and would be an improvement.
2. Cal – The Bears had two games canceled at the beginning of the season and two more at the end. Between those cancellations, Cal was blown out by UCLA and lost close games to Oregon State, Stanford and Oregon. It is certainly better than that and should post at least six wins next season with Nevada and Sacramento State on the schedule and Washington State and Arizona expected to struggle. Cal needs to beat Oregon State and Stanford next season, however.
3. Florida State – The Seminoles were a dismal 2-6 last season with wins over Jacksonville State and, somehow, North Carolina. They missed a sure beating in the cancelled game against Clemson. I'm not saying things are that much better at Florida State but some bad apples are gone and McKenzie Milton has leadership skills so the offense will improve. Jacksonville State and UMass should be wins and a couple more here and there and the Seminoles would be looking at a 5-7 season that represents a step in the right direction.
4. LSU – After a perfect 2019 things were bad last season for LSU with so many losses to the NFL and opt outs. The Tigers finished 5-5 which isn't horrible with an all SEC schedule and such a young team. But I'm expecting bigger things in 2021. They should start 3-0 with wins over UCLA, McNeese and Central Michigan, and they have Mississippi State and Auburn right after that. Could they be 5-0 to start the season? Yes. Things get tough after that but a 7-5 season is my minimum expectation and I think 8-4 is likely.
5. Penn State – An 0-5 start is historically bad for Penn State and we won't see that again. In fact, we should see more of the team that finished the season with four pretty easy wins. Ohio State might be out of reach and Wisconsin, Indiana and Iowa are tough but the rest of the schedule is quite easy actually. If I'm James Franklin and looking at Ball State, Auburn, Villanova, Illinois, Maryland, Michigan, Rutgers and Michigan State I'm thinking 8-4 at least.
*****
2. THE BEST NFL PLAYERS THAT WERE TWO-STAR PROSPECTS
Who are the best NFL players that got a two-star rating from Rivals.com back in the day and why? It's an impressive list.
1. Russell Wilson, Seattle Seahawks – Wilson was a 5-foot-10 quarterback in 2007 when there weren't many examples of successful undersized signal callers. Now it's a thing and he's a superstar.
2. Travis Kelce, Kansas City Chiefs – Kelce was a huge quarterback in 2008 but he wasn't very good so we had him at athlete. Pitt was his best offer before he chose Cincinnati.
3. Davante Adams, Green Bay Packers – Some things you just can't explain as Adams flew under the radar despite his 6-foot-3, 191-pound frame and amassing over 1,000 yards as a senior. He ended up at Fresno State.
4. Bobby Wagner, Seattle Seahawks – The lowest rating a prospect can get in Rivals.com history is a 4.9 two-star. Heck, we eventually got rid of 4.9, 5.0 and 5.1 when we re-did the team rankings formula. But Wagner was a 4.9 despite playing for a Colony High School team outside of Los Angeles that was known and having a 6-foot-3, 210-pound frame. He was simply considered too slow and Utah State went on him. The rest is history.
5. Khalil Mack, Chicago Bears – Mack was 6-foot-3 and 220 pounds as a linebacker in high school and you'd think in Florida he'd garner some attention. But Mack was a basketball prospect first, then played some quarterback (nicknamed the "Bombshell Man") and wasn't good. His move to linebacker as a senior led to 140 tackles but still just had a Buffalo offer.
6. Josh Allen, Buffalo Bills – We missed on Allen out of high school and JUCO but so did everyone else. Wyoming didn't, and now he's an elite franchise QB. His high school, Firebaugh, is not well known as a football school surrounded by bigger and better schools near Fresno and he played three sports while missing most quarterback camps. But in the end he gets the last laugh.
7. Aaron Jones, Green Bay Packers – We had Jones as an athlete in 2013 and UTEP was his only offer out of El Paso. He could have played running back or defensive back and it's another curious case of how a prospect got missed. This time it had to do with being in a military family as Jones lived in Germany, Kentucky, Tennessee, Virginia and finally down in El Paso. He put up good numbers his last year of high school but only the local team took a chance.
8. Chandler Jones, Arizona Cardinals – We had Jones as a big tight end out of high school with the lone offer from Syracuse but he went off to college to play defensive end, become a first-rounder and is having a potential Hall of Fame career.
9. JJ Watt, Arizona Cardinals – Watt was a little known tight end prospect back in 2007 whose lone offer was Central Michigan. He was asked to move to offensive line and decided to leave and walk on at Wisconsin. I think you know the rest.
10. David Bakhtiari, Green Bay Packers – Bakhtiari played at Serra in 2009 where numerous FBS prospects emerged and was a "tiny" 6-foot-4, 266-pound guard. Colorado, Utah and Washington offered him and he chose the Buffaloes but we thought he was too small. He is the third Green Bay Packer on this list.
*****
3. THE PROGRAMS THAT COULD EMERGE AS THE NEXT CLEMSON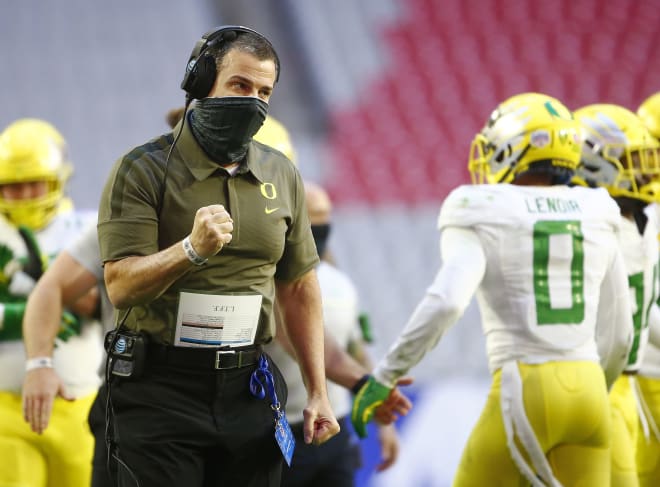 Bill Connelly from ESPN wrote an interesting article last week listing five programs that could become the next Clemson, which I took to mean a consistent national title contender. Connelly listed Georgia, Notre Dame, Oregon, Penn State and LSU as programs that could make that jump.
It's a great article and Connelly backs up his selections by diving into scoring margins, explosive players and other advanced metrics, but I think he made a mistake with his Notre Dame and Penn State picks.
The Fighting Irish have no chance to win multiple national championships due to the academic restrictions the program has to operate under in recruiting and its national recruiting footprint that extends the staff from coast to coast.
The Nittany Lions won't become the next Clemson simply because they have to deal with Ohio State in their division. Sure, LSU has to play Alabama every season in division play but the Tigers have a massive recruiting edge over Penn State and they have shown that they can get past the Crimson Tide. The Nittany Lions have to go, but the Bayou Bengals can stay.
Georgia is an obvious choice because of how well Kirby Smart is recruiting in Athens. Oregon is a very good selection because Mario Cristobal is building an SEC-like roster and eventually a program is going to emerge from the Pac-12 and break out nationally.
Who would I add to replace Notre Dame and Penn State? That's easy. North Carolina and Oklahoma. The Sooners have been to the playoff four times already, their defense is improving and they have an easier path to the playoff through the Big 12. As for the Tar Heels, I believe in Mack Brown and what he's building in Chapel Hill. Clemson will eventually take a step back. It's inevitable. When the Tigers do fall back to the pack, North Carolina could rise up in the ACC.
Nice article Bill, I enjoyed it!
Source: Rivals.com