Rivals National Columnist Mike Farrell is here with a look at 10 Big 12 players he's excited to see next season, some thoughts players opting out of high school football and the best NFL prospect in each FBS conference for the 2021 season.
1. TEN BIG 12 PLAYERS I AM EXCITED TO WATCH THIS SEASON  
Spring football is over for most programs and, as always, there are breakout players that have fans excited. Let's continue today with the Big 12 and focus on 10 non-freshmen that I'm most excited to see this season.
1. RB Zach Evans, TCU — His 75-yard run in the spring game has me excited about a breakout year from the former five-star.
2. RB Eric Gray, Oklahoma — Gray makes a potent Sooners offense look even more dangerous as he hits the ground running from Tennessee.
3. DT Moro Ojomo, Texas — He might not get a ton of publicity but he's a dominant force on the defensive line who should make it hard to run and stay in the pocket.
4. DT Apu Ika, Baylor — The LSU transfer has made an immediate impact at a key position and, like Ojomo, he will not get a ton of notice but will be crucial.
5. OL Jarrod Hufford, Iowa State — Iowa State returns depth at almost every position and this guy provides even more as he can plug in and play if anyone goes down.
6. LB Malcolm Rodriguez, Oklahoma State — His experience is key and his leadership will be welcome. He's a solid tackler and could be part of the league's best defense.
7. DB Julius Brents, Kansas State — Brents comes over from Iowa and provides immediate help and athleticism for K-State.
8. QB Tyler Shough, Texas Tech — He's jumping into a great situation to put up monster numbers and the limited spring was a showcase for that.
9. DB Scottie Young, West Virginia — With the losses at defensive back, Young will need to step up and has already shown signs.
10. RB Daniel Hishaw, Kansas — His energy and power running style will be perfect for a team that needs to control the clock and make key first downs.
*****
2. Blue's alarming decision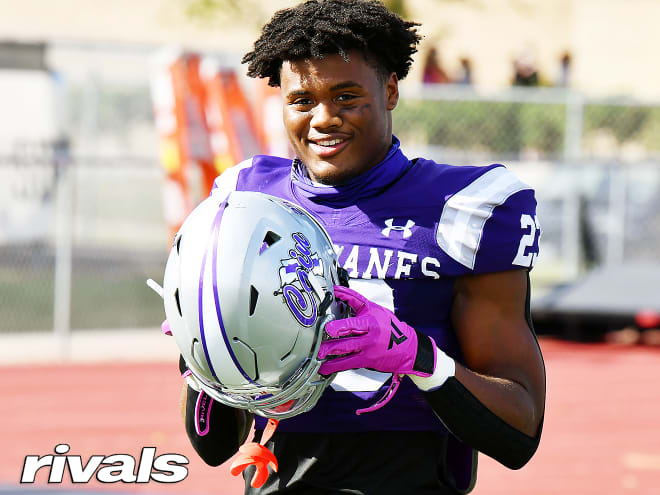 Texas running back star Jaydon Blue has decided to opt out of his senior season of high school football to avoid wear and tear on his body so he can perform at the highest level in college and, hopefully, in the NFL.
I think it's crazy. I just don't see this as a harbinger of good things for Blue as a football player or competitor. I'm in the scouting and evaluation business and to me this is a massive red flag.
I was doing my weekly radio hit last week on Full Ride with Chris Childers and Rick Neuheisel and I asked Neuheisel, a former college head coach, what he would do in this situation. He told me he would ask to speak to the player's parents and try to convince them that high school football is a gift and any player that gave up an entire season of football with his teammates and coaches was robbing himself of a treasured opportunity and memory. I then asked Neuheisel if he would drop the player's scholarship offer based on this decision and he said he would simply stress to the player how far behind others he could be if he sits out an entire year.
Blue is committed to Texas but I think it's still 50-50 if he ends up at Texas. If he does sign with the Longhorns, I wouldn't be surprised at all if he entered the transfer portal at some point.
If I was a college coach, I would drop a committed player who made a decision like this because it speaks to their commitment, or lack thereof, to their team and teammates. I wouldn't risk having a me-first player on my roster.
This is a personal decision for Blue and I wish him all the luck in his career but I'm also hoping that, as the football season gets closer, he gets that itch to get back on the field with his teammates and play ball. I'm also hoping that other players don't see this and feel like it's a viable option.
SHARE YOUR THOUGHTS WITH TEXAS FANS AT ORANGEBLOODS.COM
*****
3. THE TOP PRO PROSPECTS IN EACH CONFERENCE
Here are my top NFL prospects in each FBS conference.
Big Ten: OT Rasheed Walker, Penn State — It could be Chris Olave or Garrett Wilson from Ohio State but Walker is one of the elite tackles in what looks like a solid class at the position next year.
SEC: CB Derek Stingley Jr., LSU — Evan Neal at Alabama is up here as well but Stingley Jr. is a top-five pick if he stays healthy.
ACC: QB Sam Howell, North Carolina — Howell is QB1 to some and despite losing weapons he should put up monster numbers again.
Pac-12: DE Kayvon Thibodeaux, Oregon — Some have him as the No. 1 player overall in the NFL Draft and he's clearly DE1.
Big 12: QB Spencer Rattler, Oklahoma — Rattler is QB1 to me if he develops a bit because of his rare arm talent. He could be the No. 1 overall pick.
Independents: S Kyle Hamilton, Notre Dame — He's an elite ballhawk and my No. 1 safety as a potential top-15 pick.
AAC: DB Ahmad Gardner, Cincinnati — Gardner is a first-rounder to me and one of numerous Bearcats who could land in the first two rounds.
MAC: Justin Hall, Ball State — Hall isn't big but he's versatile and sneaky strong, and he should stuff the stat sheet this season.
C-USA: S Rashad Wisdom, UTSA — A big and physical tackler, Wisdom is a name to remember.
Mountain West: QB Carson Strong, Nevada — Strong has a, well, strong arm and has the size and upside to be the small school choice like Trey Lance was this year.
Sun Belt: TE Isaiah Likely, Coastal Carolina — There are many but I like Likely the best early with his ability to stretch the field.
Source: Rivals.com