THE SITUATION
First-year Texas coach Steve Sarkisian has generated some momentum on the recruiting trail.
Rivals100 wide receiver Evan Stewart committed to Texas late Thursday evening. The nation's No. 9-ranked wideout out of Frisco (Texas) Liberty High School committed to Texas over the likes of Alabama and Oregon, among others. Stewart followed fellow nationally ranked in-state recruits like Armani Winfield and Jaydon Blue as early pieces of the Longhorns' 2022 recruiting haul, which now ranks No. 5 nationally on Rivals with six total commitments.
Stewart is the No. 13-ranked prospect in the Lone Star State and tabbed as the No. 87 player in the country on Rivals.
The hiring of Sarkisian, who brought a strong track record on the offensive side of the ball to Austin, gave one of the nation's premier receivers enough confidence to make his decision.
"I've watched DeVonta (Smith) throughout his course and the way he developed, I know that he's getting coached strong. It's the same with (Jaylen) Waddle. He's definitely getting developed there," Stewart recently said of the Alabama wide receivers while under Sarkisian at Alabama.
"Right now, I'm just waiting to see (what happens)," Stewart added on the Longhorns. "We had a good relationship throughout my recruitment and I like Texas, but I'm waiting to see what happens there."
RIVALS REACTION
Stewart is a bonafide speedster with quick-twitch and explosiveness for the position to attack vertically and make plays in the open field. The 6-foot-1, 175-pounder was a unanimous All-District 7-5A Division II selection at wide receiver this past season after eclipsing 900 yards receiving with nine touchdowns.
Over the past two seasons, Stewart has piled up 89 receptions for 1,670 yards and 16 touchdowns. As a junior, he posted career-best marks in total catches (46), receiving yardage (913) and touchdowns (9) in just eight games played.
Stewart is as accomplished on the football field as he is at track and field. He owns career-best marks in the 100-meter (10.74 seconds), the 200-meter (21.08 seconds), long jump (24' 6") and triple jump (47' 9").
Stewart is a gifted speedster with enough juice to create plenty of separation from defensive backs in coverage and 4.4 speed to beat defenders around the edge consistently. He's twitchy to keep would-be tacklers off-balanced with straight-line speed and explosiveness to press forward and break away in the open field.
Stewart has a special ability to accelerate after the catch or immediately after his release. He creates headaches in the open field with a combination of speed, quickness and lateral quickness in space. He's also good for a few missed tackles forced.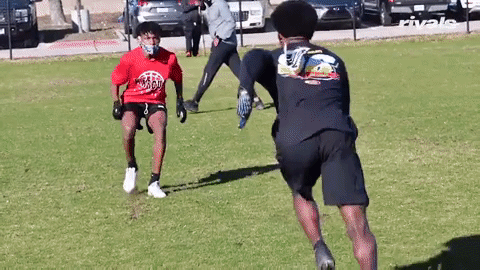 At 6-foot-1, Stewart has a special ability to get vertical and make catches over defenders. He can contort his body and stretch his arms to create mismatches in 50-50 ball situations, making for ultimate mismatches in the red zone and for jump-ball throws down the field.
Stewart lines up all over the formation, which in turn allows his offense to attack vertically, whether it's outside the hashes or down the seams.
Stewart possesses soft hands and attacks the ball at its highest points. He's a reliable target that's proven to be capable of bringing down difficult grabs while also absorbing contact from defenders in coverage.
Stewart's vertical speed downfield is glaring and he's continuing to improve as a route-runner. He's able to attack defenders giving him room with routes underneath thanks to crisp footwork and a proven skill to turn upfield and make someone miss.
Stewart brings an array of tools to his offense in both the downfield passing game, the short and intermediate passing games and in creating mismatches or gadget plays. He's gifted physically with room to continue to fill out his frame.
Source: Rivals.com