DORAL, Fla. – The Rivals Camp Series stop in South Florida turned out to be a star-studded affair with talent from multiple states on hand. It was a particularly talented group of offensive linemen and skill players, especially underclassmen. Here are the top performers from the event.
*****
MORE RCS MIAMI: Friedman Award winners | The QB Report
CLASS OF 2022 RANKINGS: Rivals250 | Position | Team | State
CLASS OF 2023 RANKINGS: Rivals100
RIVALS TRANSFER TRACKER: Stories/coverage | Message board
RIVALS CAMP SERIES: Info/coverage on 2021 camp series
*****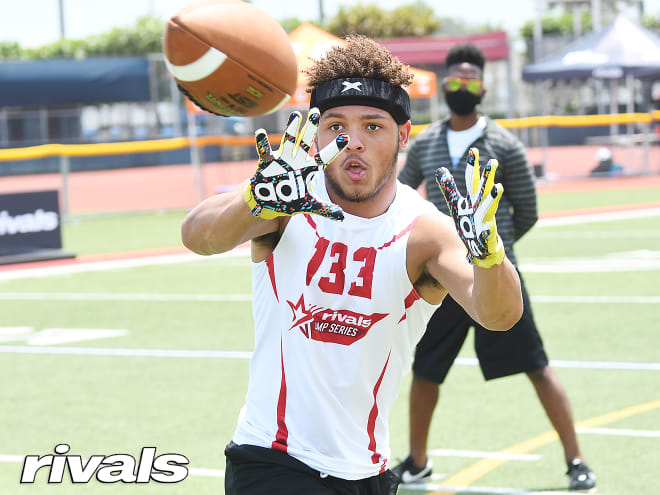 With such a talented group of offensive linemen in the early portion of the camp, it took a nearly flawless performance from the nation's No. 4 player in Inniss to earn top honors here. Inniss was sensational. He proved to be a weapon anywhere on the field, challenging downfield and also making contested catches across the middle and making receptions outside the numbers.
Inniss can cover a ton of ground in a hurry and showcased some craftiness at the top of his routes and reliable hands. He's also a crisp route-runner.
Ohio State, Oklahoma, Florida, USC and Alabama all covet the five-star, who has a very Christian Kirk-ian game.
*****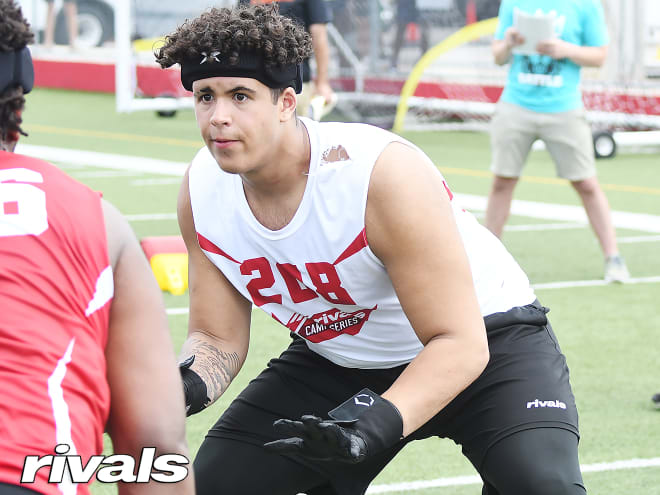 A slimmed-down version of Armella (6-foot-5, 278.5 pounds) showed up in South Florida and was absolutely brilliant. The five-star tackle is light on his feet and anticipates pass-rush moves very well. Armella was able to maintain leverage on most of his reps and also overpower defenders with great hand positioning and outstanding upper-body strength.
He plays with a meanness to him, and after losing a rep to Five-Star Challenge invitee Mario Eugenio, he bounced back with authority. Armella is absolutely in the conversation as the No. 1 tackle in the country. LSU, Alabama and Miami are the schools recruiting him hardest this spring.
*****
It should be noted where Madison, a 2024 wide receiver, is positioned on this list. Coming off his freshman season, the 6-foot-3, 204-pounder turned in a stellar performance with the ability to beat the press, run crisp routes and separate downfield.
Madison tracked the ball well and is a massive target for any quarterback. He blends excellent size with speed to get downfield and was also a crafty, advanced route-runner.
Miami, Florida State, Maryland, Colorado and Syracuse have already offered.
*****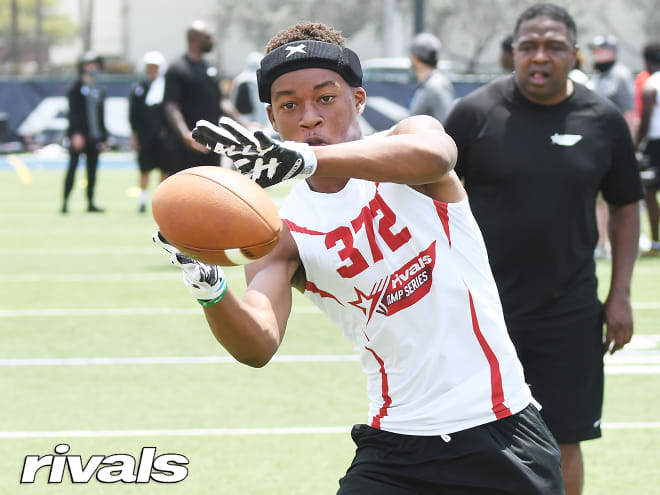 Brown lined up outside and in the slot and impressed with his ability to make plays all over the field. The Rivals100 prospect from nearby Miami (Fla.) Gulliver Prep was too quick for defensive backs running down the seams and was capable of consistently separating at the top of his routes.
Brown came up with a handful of highlight grabs, many of them with his arms outstretched, showcasing his reliable hands.
Tennessee, Michigan, Miami, Notre Dame, LSU, Georgia, Florida and Florida State are all in the mix.
*****
The nearby Deerfield Beach (Fla.) High product captured MVP honors at the running back position and managed to impress in multiple facets with his performance Sunday. Patterson was an exceptional pass-catcher during 1-on-1s. He's twitchy on his routes and easily got open against quality linebackers in coverage. He also had a second burst of speed getting downfield.
Patterson, who is very high on Florida State, Penn State and Auburn, drew praise from former NFL RB Brandon Jacobs for his physicality during pass-pro drills.
*****
The son of former Miami Dolphin and NFL Hall of Famer Jason Taylor, Mason will be making his own name soon if Sunday's performance is any indication. The 6-foot-5, 231-pound tight end is athletic and quick, but it is his natural feel for the position that really sets him apart this past weekend.
Taylor utilizes his size, speed and technique to create separation from defenders, and he was able to make a lot of easy catches because of that. His first official visit has been scheduled to Pitt for the second week in June.
*****
It has been a productive month of April for Becht. The Tampa-area passer announced a commitment to Iowa State on April 9, and nine days later he won the Quarterback MVP Award at the Miami Rivals Camp stop. Becht has a rifle for an arm and zipped the ball all over the field Sunday.
He spots his deep ball really well and has the arm strength to hit tight windows on intermediate throws. The son of former NFL tight end Anthony Becht, Rocco also shows the charisma and moxie needed to lead a huddle.
SHARE YOUR THOUGHTS WITH IOWA STATE FANS AT CYCLONEREPORT.COM
*****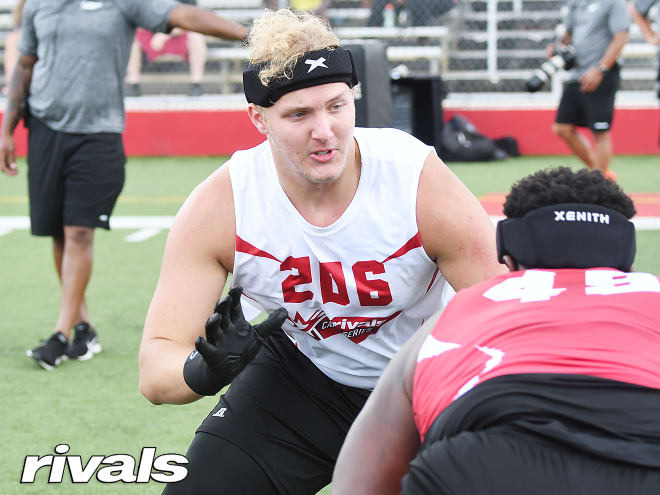 Coming off a visit to Florida State for the Seminoles' spring game, Ramsey was certainly one of the top-performing tackles on hand. The Arizona transplant checked in at 6-foot-4 and 275 pounds with 33-inch arms. He has a frame for a tackle, but took reps inside at guard seamlessly.
Ramsey was tough enough to battle talented interior lineman with a strong base and good leverage and he also moved well to defend against speedier rush-linemen.
*****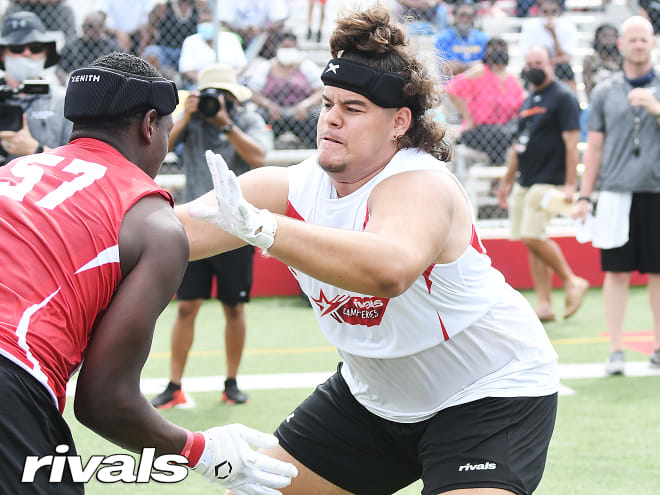 Shanahan took reps at both left and right tackle, and at 6-foot-4, 320 pounds, he could also kick inside as well. The Rivals100 offensive lineman is a fierce competitor, and when he was able to lock in his hands he became an immovable force.
Shanahan has great feet and even more natural power, and he flashed both of those traits with some strong finishes at the end of 1-on-1s.
Florida, Arizona, USC, Stanford, Oregon and Ohio State are a number of the teams after the Pac-12 legacy.
*****
A top-100 prospect in the Sunshine State for 2022, Brown was one of the best big-framed wide receivers on hand at Sunday's RCS stop. The 6-foot-3, 195-pounder packs good size with a massive catch radius, which he used to his advantage time and time again, making grabs away from the body with hands in his face. Brown did most of his damage outside the numbers, but he was also strong going across the middle.
Kentucky, Pitt, Virginia, Syracuse and Cincinnati all covet the South Florida playmaker.
*****
Source: Rivals.com