Members in NY's 11th Congressional District praised DeBarros's commitment to progressive values.
NEW YORK — Today, MoveOn Political Action is announcing that its members in New York's 11th Congressional District have voted to endorse Brittany Ramos DeBarros for the U.S. House.
Sixty-eight percent of voting MoveOn members in the district supported endorsing Ramos DeBarros, citing her political and military experience and her progressive agenda.
DeBarros is a combat veteran and progressive organizer who understands how powerful we are when we come together. She is stepping up early to build a people-powered movement to defeat extreme Republicans, such as incumbent Nicole Malliotakis. The DeBarros campaign is making an investment in organizing the community in order to flip this critical district and elect another progressive leader to Congress in 2022.
Here is what MoveOn members in New York had to say about why they support Ramos DeBarros:
"Brittany Ramos DeBarros knows how to get things done. We need her experience, compassion, and diversity in office." –Silvia V., Staten Island, NY
"Brittany will bring a new progressive voice to Congress. In 2022, she can flip a Republican-held congressional seat and serve as a consistent vote for progressive policies that will benefit the middle class and marginalized communities." –Ashely O., Staten Island, NY
"It's time to offer a genuine alternative to the GOP and to motivate Staten Island's progressive voters. Brittany Ramos DeBarros is the future of the Democratic Party!" –Shaun R., Staten Island, NY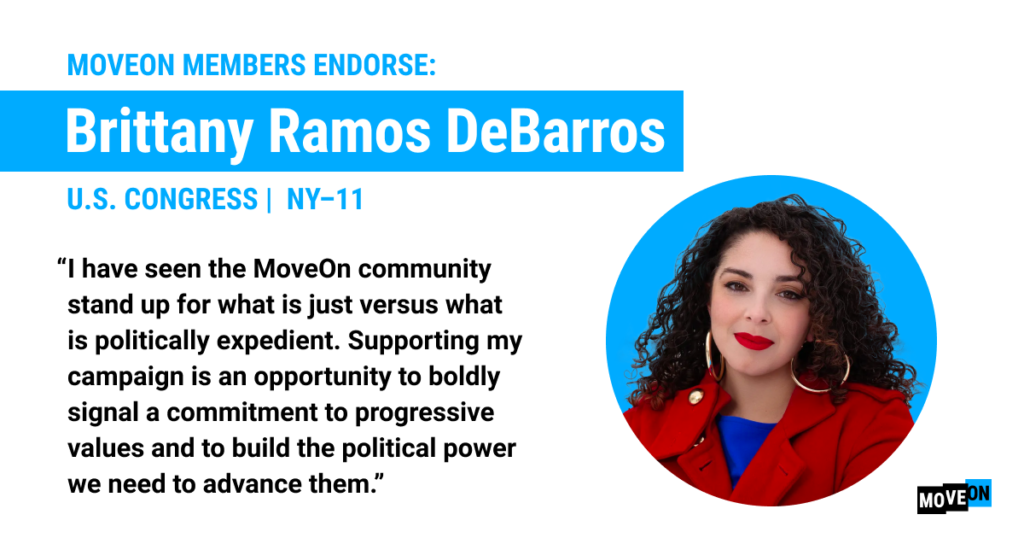 "New York MoveOn members are ready to have representatives that stand with them for progressive change, something Brittany Ramos DeBarros can bring to the 11th District," said Rahna Epting, executive director of MoveOn Political Action. "Nationwide, voters are rejecting the policies of far-right, Trump-aligned candidates like Nicole Malliotakis, and New Yorkers are ready to once again stamp out Trumpism and elect progressives like Brittany Ramos DeBarros, who will bring both a fresh voice and an organizer's and veteran's experience to Congress."
###
Source: MoveOn: People-Powered Progress