Written by Janet, MoveOn member.
Political organizing doesn't stop just because a pandemic is raging on. In a normal world, I would be knocking on doors, making phone calls, canvassing door-to-door, or stopping people on the street to have conversations about the election. But this time is different. In spite of life's challenges, I am adapting my individual organizing to a virtual world with the help of MoveOn. I may be just one person, but I know that my voice and my vote matter. I do the work not only to support the Biden-Harris campaign and their fight for humanity, but also because I believe in the power of my community.
My community in the South Side of Chicago is one of immigrants who have been suffering through many things, be it discrimination or healthcare disparities. Because of their immigration status, some don't have the same rights that I do, which can really limit how they do or do not use their voice to advocate for themselves. My son and most of his friends are people of color, and I know that it feels like right now their voices are being left out of political conversation, despite their important lived experiences that can and should inform policy. This silence can have very real consequences. 
My father, for example, passed away in the workplace during a demolition project gone wrong. So many companies do not value the safety of their immigrant workers. When I shared this with a boss, I was immediately met with "I'm a Trump supporter," as opposed to any empathy or "I'm sorry for your loss." I was so upset by this and it was the moment I realized this is not only the story of my father, but of so many in my immigrant community as well. I couldn't handle the discrimination anymore. I needed to do something about it. So, I went to the Families Belong Together March. I later saw that the march wasn't just here in Chicago, but all over the country. That enthusiasm helped me see myself as someone who can continue to show up with whatever little action I can for the movement like as a MoveOn member.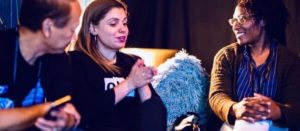 My time with MoveOn has been very meaningful and special to me. It has influenced me because, as a daughter of immigrants, I want to represent my parents and their untold stories. MoveOn has given me the avenue to use my voice the way I want to.
This election cycle, I am using my voice to help Biden and Harris win this election. I've seen more and more that they're actually including people who are often left out in their policy conversations. The Biden campaign's plan for parents, for example, really appealed to me because they're focusing on and including parents in the discussion. As a result, they're really taking into consideration a lot of things parents—including single parents and single mothers—have to deal with, such as a lack of educational and economic resources. 
We need people like Joe Biden and Kamala Harris in office, so I'm going to have discussions with people in my community. I'm going to talk to them, even six-feet apart on the street, about their normal day-to-day life and how the next president can shape that. I've also been engaging in virtual training for MoveOn members about getting out the vote. 
I do all of this because my vote isn't just my vote. It's my vote for the people that surround me. The people that we elect have a tremendous role to play in America. If they're not showing up for us the way that we need, if our communities are not growing in a positive way or healthy way, then we have the right to not vote for them again. We certainly do not want Trump in office anymore, so I hope people can stay motivated through the election. If we sit down on a day to day and really talk to people about the things that are going on, we realize that we have so much more in common, even though our stories are maybe slightly different. We'll find so many things in common, and I find hope through that.
Listen to Janet's story here.
Source: MoveOn: People-Powered Progress