The first Rivals100 for the 2023 class was released last week and there are plenty of questions left as the heart of the spring camp season approaches. Each day this week we will examine the biggest rankings questions at each position. Next up are the linebackers.
1. Who
will be the first five-star?
With three linebackers between Nos. 10-20 in the first 2023 Rivals100, there is a pretty good chance at least one of them will make the jump from four-star to five-star. Anthony Hill, the highest-ranked linebacker right now, sits at No. 10 in the rankings. The inside linebacker is a punishing hitter and finds running lanes quickly. He is also a great blitzer and seems comfortable playing in space. Outside linebacker Drayk Bowen is an explosive edge defender that can easily match up with tight ends or running backs in space and rush the passer. His versatility will be a big problem for college offenses. Malik Bryant out of Florida isn't a huge or rangy defensive end but he is an elite athlete with great speed out of his stance and is surprisingly powerful. Keep an eye out for Alex "Sonny" Styles as well. At No. 26 in the Rivals100, Styles is currently listed as an athlete but could be trending towards playing linebacker at the next level.
*****
2. Is
Tackett Curtis the most underrated player in the Rivals100?
It's hard to call any player in the Rivals100 underrated, let alone a top 50 player, but Tackett Curtis might fit the description. Playing off the beaten path at Many High School in Louisiana, Curtis will be just the first Rivals250 prospect in his school's history. Curtis plays safety predominantly right now but he will likely grow into an outside linebacker over the next few years and into college. He has great speed in the open field, is a disciplined tackler, and makes plenty of plays on the ball. Curtis is also a big hitter that can knock the ball loose. He looks like a real asset in pass coverage because he has no problem matching up against slot receivers, tight ends, or running backs.
It's still very early in the 2023 rankings cycle and Curtis will be a constant topic of discussion as the process unfolds. As we see more and more of Curtis in the next few months and years, it will become clear if he was underrated.
*****
3. Which
Pennsylvania linebacker will separate from the pack?
It's an outstanding year for linebackers in the state of Pennsylvania and the 2023 Rivals100 features three of them. Coming in at No. 76 is Ta'Mere Robinson. The western Pennsylvania native predominately lined up at safety last season but projects as an outside linebacker. His athleticism, length, and versatility are outstanding and it makes him one of the more coveted prospects in this class. At No. 77 in the Rivals100 is Semaj Bridgeman. This big-time prospect out of southeastern Pennsylvania has a great frame, is a big hitter, and does a great job tracking the ball down. Bridgeman has a similar build to a young Micah Parsons did. At No. 80 in the Rivals100 is Josiah Trotter. The Philadelphia native is the son of Jeremiah Trotter Sr. and brother of Jeremiah Trotter Jr. Last season the youngest Trotter made a name for himself by showing off impressive instincts for such a young player. He is a big hitter that quickly diagnoses the play and flies to the ball carrier. Trotter also seems a bit more athletic that his brother was at this stage in his development. Watching these three linebackers battle it out one the next few years will be fun to watch.
*****
4. Will
this be the year there are more inside linebackers than outside linebackers in
the Rivals100?
There are five inside linebackers and four outside linebackers in the first 2023 Rivals100 but the balance is usually slanted towards outside linebackers. The 2009 and 2014 classes are the only two where there have more inside than outside linebackers in the Rivals100 when the rankings were finalized. Will the 2023 class be the third? Probably not but this class has as good a chance as any in the last few years. In the 2020 class there was actually an equal amount of inside and outside linebackers in the Rivals100 at the end of the cycle but, with the way defenses are changing, it's likely that there will be more outside than inside linebackers in the Rivals100 when the 2023 rankings go final in a couple years.
*****
5. Who
are potential Rivals250 candidates?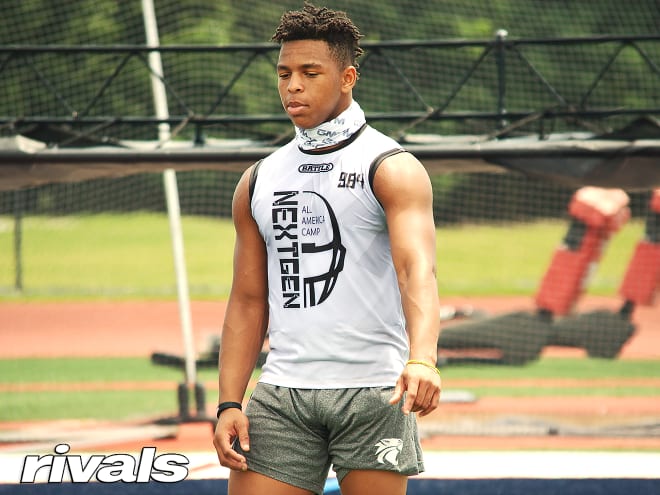 There is a long list of potential Rivals250 linebackers in the 2023 class but a couple names to keep an eye on are Raul Aguirre out of Georgia and Florida prospects Jayvant Brown and Jordan Hall. Aguirre has been a big name in the Peach State for some time. He projects as an inside linebacker but he has the speed and athleticism to be an every down player. Brown is a tough, physical linebacker that plays with discipline and speed. He reacts quickly and rarely lets the ball carrier fall forward after contact. Hall has a world of potential and the physical attributes to be a star at the high school and college levels. He could play inside or outside linebacker but there isn't a ton of film to go off of at the moment. His performances this spring and summer will have a major impact on his initial ranking.
Source: Rivals.com