As always, there was a lot of movement in the final team rankings on National Signing Day as some teams dramatically moved up and down. Here is a look at the five programs that moved down the most from the previous recruiting cycle as the 2021 class comes to a close.
SOUTH CAROLINA
Overview: First-year coach Shane Beamer had about two months to piece together his first recruiting class and it was a struggle as a handful of top prospects backed off their pledges and ended elsewhere. The Gamecocks had a decent close with four-star JUCO linebacker Tavareon Martin-Scott and three-star DB LaDarayen Craig but the transfer portal will be a focus to round out the roster. In 2020, the Gamecocks finished No. 18 in the team recruiting rankings with two five-stars in the class. But South Carolina signed just 13 prospects in 2021 and dropped to No. 78, tied with Appalachian State and Jackson State in total points.
Farrell's take: This isn't unexpected with a coaching change, especially since Shane Beamer decided not to reach on prospects and instead bank some scholarships for 2022 and the transfer portal. Next year will be the true test.
SHARE YOUR THOUGHTS WITH SOUTH CAROLINA FANS AT GAMECOCKCENTRAL.COM
*****
OREGON STATE
Overview: The Beavers finished with the worst class in the Pac-12, by far the fewest points and Oregon State was one of only two teams in the conference along with Arizona to not sign any four-star prospects. Only 11 prospects signed with Oregon State, which will probably look to the transfer portal for some additions, led by high three-star running back Damir Collins, who could work out well in the Beavers' offense. But after finishing No. 52 nationally in the 2020 class, Oregon State didn't crack the top 100.
Farrell's take: This is another small class and I think we are going to see more and more of these from middling programs as they rely on the portal more and more. That's my guess as to what is happening here.
SHARE YOUR THOUGHTS WITH OREGON STATE FANS AT BEAVERSEDGE.COM
*****
PURDUE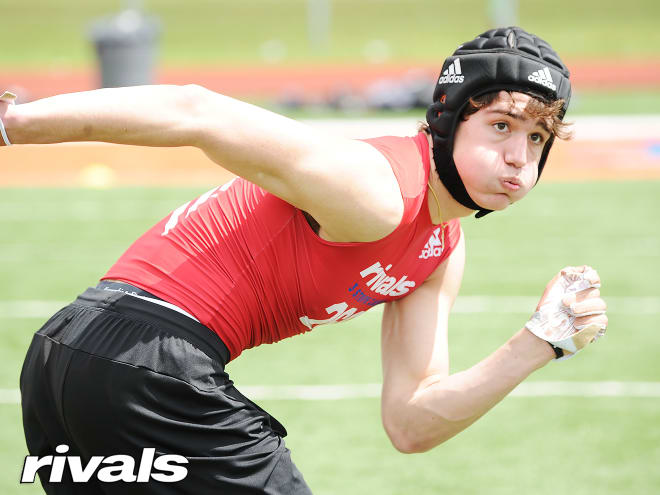 Overview: Four-star linebacker Yanni Karlaftis is a big-time addition for the Boilermakers but he was the only player ranked that high for Purdue, which finished last in the Big Ten rankings and signed just 14 prospects, tied for the lowest in the conference with Indiana. After finishing No. 30 nationally in 2020 as the Boilermakers finished with four four-star prospects including wide receivers Maliq Carr and Abdur-Rahmaan Yaseen, Purdue dropped to No. 75 overall sandwiched between Fresno State and Appalachian State, Jackson State, South Carolina and Texas Tech in 2021.
Farrell's take: Again, a small class. Purdue has some quality in here but with so few commitments it was bound to be a big drop. A bigger class will come in 2022 and the Boilermakers have some wiggle room for the portal.
SHARE YOUR THOUGHTS WITH PURDUE FANS AT GOLDANDBLACK.COM
*****
TCU
Overview: The early signing period went well for TCU as the Horned Frogs signed four-star RB Ahmonte Watkins and four-star WR Quincy Brown but things dried up from there and TCU didn't finish strong in this recruiting class. With only 14 total signees, only Texas Tech was lower in the Big 12 team rankings and TCU went from finishing No. 24 in 2020 (when the Horned Frogs signed five-star RB Zachary Evans late) to No. 64 in 2021, tied with Navy in the team rankings.
Farrell's take: Gary Patterson knows talent and has a young team so a small class was expected. TCU has been especially active in the transfer portal and will make up for it there.
SHARE YOUR THOUGHTS WITH TCU FANS AT PURPLEMENACE.COM
*****
ARIZONA STATE
Overview: Based on average-star ranking and how many four-stars are in the class, the Sun Devils would be ranked fifth in the Pac-12, a respectable finish. But by signing only 14 players, the second-fewest in the conference just ahead of Oregon State, the Sun Devils finished No. 61 in the team rankings, dropping from No. 27 in 2020 when they signed eight four-stars. Still, landing four-stars Tommi Hill, Lonyatta Alexander, Ezra Dotson-Oyetade and especially CB Isaiah Johnson was definitely another step in the right direction.
Farrell's take: This is a very solid class but the numbers are smaller. Herm Edwards and Antonio Pierce know what they are doing and this is a high-quality group.
SHARE YOUR THOUGHTS WITH ARIZONA STATE FANS AT DEVILSDIGEST.COM
Source: Rivals.com