In today's Fact or Fiction National Columnist Mike Farrell looks at three big recent topics in college football and decides whether each statement is indeed FACT or if it's FICTION.
*****
MORE FACT OR FICTION: Kye Stokes deserves to be ranked higher | Jameson Williams will start right away at Alabama
CLASS OF 2022 RANKINGS: Rivals250 | Position | Team | State
CLASS OF 2023 RANKINGS: Rivals100
RIVALS TRANSFER TRACKER: Stories/coverage | Message board
RIVALS CAMP SERIES: Info/coverage on 2021 camp series
*****
1. Spencer Rattler will be the No. 1 pick in the 2022 NFL Draft.  
FACT. I saw Todd McShay's first 2022 mock draft online this week, and he had Kayvon Thibodeaux No. 1 overall to the Houston Texas and Rattler behind Sam Howell at No. 11 overall. No way I can see that happening, as I feel Rattler's arm talent will make him No. 1 overall, and the Texans will likely be the worst team in the league and need a QB without DeShaun Watson.
SHARE YOUR THOUGHTS WITH OKLAHOMA FANS AT SOONERSCOOP.COM
*****
2. The SEC should implement a two-scholarship loss for teams taking intraconference transfers.   
FACT. Let's slow down the portal a bit and let the SEC set the standard for intraconference transfers by making it much more difficult. This way the other conferences will likely follow suit and we won't have poaching from rival to rival. This idea is on the table for a June meeting, and I'd like to see it go through.
*****
3. Jimbo Fisher should not have poked the bear that is Nick Saban.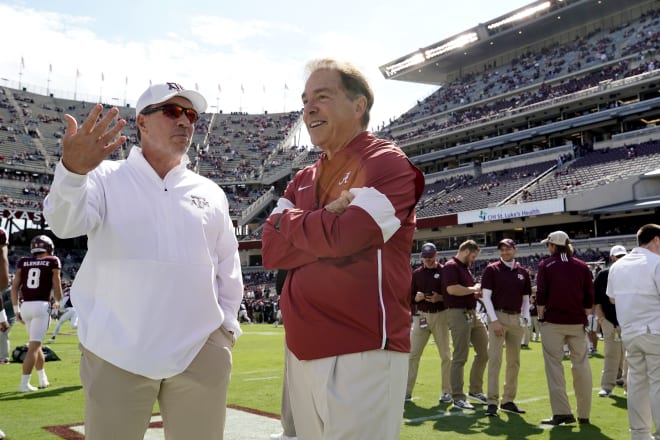 FACT. Fisher was caught on audio saying, "We're going to beat his ass when he's there, don't worry." He made the statement to a crowd at the Houston Touchdown Club when asked about whether A&M will have a chance to win the West when Saban retires. Of course, Fisher is going to be confident, but Saban remembers stuff like this, and he already slammed Fisher's best team last year.
SHARE YOUR THOUGHTS WITH ALABAMA FANS AT BAMAINSIDER.COM
SHARE YOUR THOUGHTS WITH TEXAS A&M FANS AT AGGIEYELL.COM
Source: Rivals.com