Rivals National Recruiting Director Adam Gorney along with recruiting analysts Sam Spiegelman and Adam Friedman along with Deana King from TarHeelIllustrated.com tackle three topics in recruiting and determine whether they believe each statement or not.
1. Matayo Uiagalelei has five-star potential like his brother.
Gorney's take: FACT. Like others, I was not completely sold until I saw Matayo Uiagalelei dominate in a shortened sophomore season and he should only get bigger and better from here. The 2023 four-star defensive end has shown off his athleticism and good hands playing tight end but he's best at defensive end where he can use his speed to get to the edge, disrupt a bunch of plays and dominate against some elite offensive linemen recently. His performance at the Rivals Camp Series this past weekend only solidified he could be one of the top 2023 prospects in the country.
Friedman's take: FACT. I was skeptical prior to the Rivals Camp this past weekend that Uiagalelei would live up to the hype but I'm a believer now. He is an elite athlete that could choose to have a future on the offensive or defensive side of the ball. Playing defensive end looks the most natural for Uiagalelei but right now he is getting by on his pure athleticism instead of elite strength and technical skills. He does have five-star potential but he has some development to do to reach that status.
*****
2. It's a very good sign for North Carolina that Zach Rice is visiting on June 1.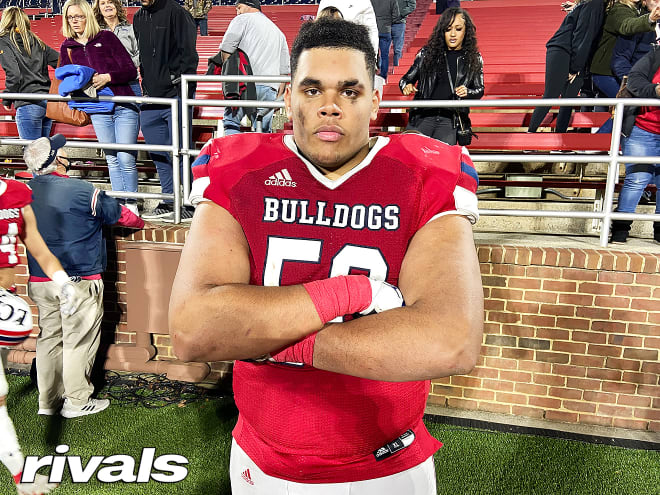 Gorney's take: FICTION. Getting Zach Rice back to North Carolina is important for the Tar Heels but just because it's his first trip I don't think it means they're going to land his commitment. North Carolina could definitely be the front-runner but Rice is going to also visit Ohio State, Virginia, Alabama and Notre Dame before making a decision. There are heavyweights on that list and a lot of them will pitch compelling cases. The Tar Heels could still land him but it's going to be a big month for the five-star offensive lineman.
King's take: FACT. The unofficial visit to North Carolina is no surprise as the five-star has been on campus multiple times including two games last season. He has hinted that he may even schedule an official later. Rice is most likely the Tar Heels' top offensive recruiting target. The June 1 visit would allow him to see even more of what coach Mack Brown and staff are doing.
SHARE YOUR THOUGHTS WITH UNC FANS AT TARHEELILLUSTRATED.COM
*****
3.
Quinn Ewers and Walker Howard will end up as the top two QBs in the 2022 class.
Gorney's take: FICTION. Quinn Ewers has established himself so far as the No. 1 quarterback in the class but then after the Ohio State commit, there is going to be a wide-ranging debate about who should be No. 2. LSU commit Walker Howard was impressive at the Dallas Rivals Camp but also had his ball fly on him and that accuracy has been a concern for a little while. An argument could definitely be made for Alabama commit Ty Simpson to be in the top two and to earn his fifth star after his showing at the Indianapolis Rivals Camp. Clemson commit Cade Klubnik and Texas A&M verbal Conner Weigman would also be on that list for me.
Spiegelman's take: FICTION. The 2022 class is shaping up to be one of the better and deeper collections of quarterback prospects in recent memory. Ewers has been the face of the class since the beginning and the Ohio State commitment is coming off a truly impressive season in which he battled his fair share of adversity and injury and advanced to the state championship game. Odds are we'll get an improved Ewers for 2021, which will be a sight worth seeing. Howard, too, is coming off a breakout junior campaign in which he was Louisiana's Player of the Year and helped St. Thomas More capture an unbeaten state title. Both Ewers and Howard are surefire five-star prospects that will be in the conversation as possible first-rounders in a few years, but there are even more talented passers inserting themselves into the conversation. Klubnik has consecutive state championships at the Texas 6A level and the Clemson commitment played through a vicious injury to earn his most recent ring. Simpson and Texas commitment Maalik Murphy both turned heads this offseason with his camp performances and will have a chance to add their fifth star at the Rivals100 Five-Star Challenge this summer. Future SEC quarterbacks Gunner Stockton (Georgia), Weigman and Nick Evers (Florida) were also major risers after their junior seasons. We expect this to be an ongoing competition all the way through National Signing Day.
Source: Rivals.com