In today's Fact or Fiction, national columnist Mike Farrell looks at three big recent topics in college football and decides whether each statement is indeed FACT or if it's FICTION.
*****
MORE FACT OR FICTION: LSU is a real player in Harold Perkins' recruitment | Ole Miss will have the best offense in the SEC
CLASS OF 2022 RANKINGS: Rivals250 | Position | Team | State
CLASS OF 2023 RANKINGS: Rivals100
RIVALS TRANSFER TRACKER: Stories/coverage | Message board
RIVALS CAMP SERIES: Info/coverage on 2021 camp series
*****
1. Kadarius Toney is a first-round NFL Draft pick.  
Farrell's take: FICTION. I like Toney a lot as a player, but the comparisons to Percy Harvin are a bit much for me. I feel he's a second-round talent in this deep wide receiver class.
I put a poll out on Twitter about this and the majority agree with me that he's a first-round reach. He could be a great second-round value with his explosive potential, but he's only had one good season and guys like that make me worry a bit.
SHARE YOUR THOUGHTS WITH FLORIDA FANS AT GATORSTERRITORY.COM
*****
2. Alabama is out for Henry To'oto'o.  
Farrell's take: FICTION. The SEC is making this hard because it hasn't passed the intra-conference exception that other Power Five conferences have, but that doesn't mean the Tide are out for the talented linebacker transfer from Tennessee.
To'oto'o didn't make a visit to Ohio State, at least according to what I know. He continues to be patient and Alabama does have space for him. The Tide are his first choice and always have been, but the SEC's delay is hurting them. If that rule is passed in May by the conference he could still end up in Tuscaloosa.
SHARE YOUR THOUGHTS WITH ALABAMA FANS AT BAMAINSIDER.COM
*****
3. The Vols should start Harrison Bailey.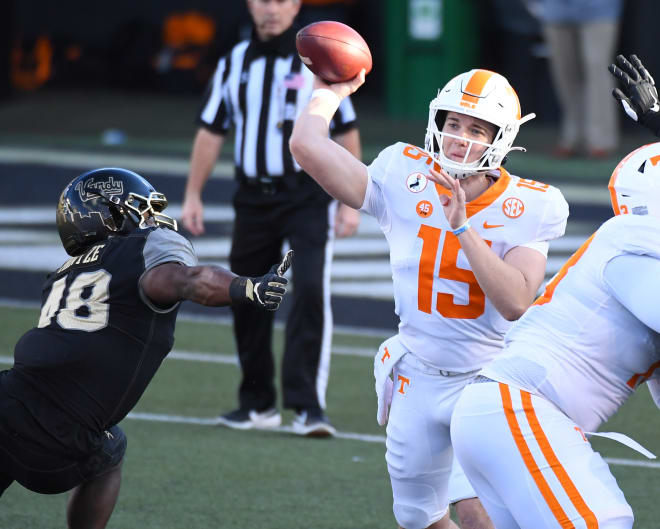 Farrell's take: FACT. As a former five-star prospect who showed signs of promise last year I believe Josh Heupel needs to give the kid the keys and let him grow with the lumps that come with it. If Hendron Hooker or Joe Milton or someone else starts, Bailey could bolt and would have a ton of options.
I asked the Vols fans on The General's Quarters message board at Volquest.com and most of them didn't care as long as the right guy gets the job, which is somewhat different than I've seen from the fan base in the past.
SHARE YOUR THOUGHTS WITH TENNESSEE FANS AT VOLQUEST.COM
Source: Rivals.com