In today's Fact or Fiction, Rivals.com National Columnist Mike Farrell looks at three big recent topics in college football and decides whether the statement is indeed FACT or if it's FICTION.
1. Tennessee's offense is instantly better under Josh Heupel.
FARRELL'S TAKE: FACT
Let's not get it twisted. The offensive performance by the Vols this past weekend in their spring game was impressive. Putting up 547 total yards in the first half alone is quite remarkable but, let's be honest, this was a show for the fans to get them excited about the season ahead. It's not a fix or a rigged game or anything, it's a showcase of what Josh Heupel brings to the table as an offensive mind. The Tennessee offense will clearly be much better under Heupel with his use of pace and ability to call plays.
Our Tennessee publisher Brent Hubbs from Volquest.com feels the pace of play and scheme will certainly allow the Vols to improve from last season even with quarterback play a question. And I agree with him.
MORE VOLS: Tennessee adds QB Joe Milton
SHARE YOUR THOUGHTS WITH TENNESSEE FANS AT VOLQUEST.COM
*****
2.
Mike Woods gives Oklahoma the edge over Ohio State for best wide receiver room in college football.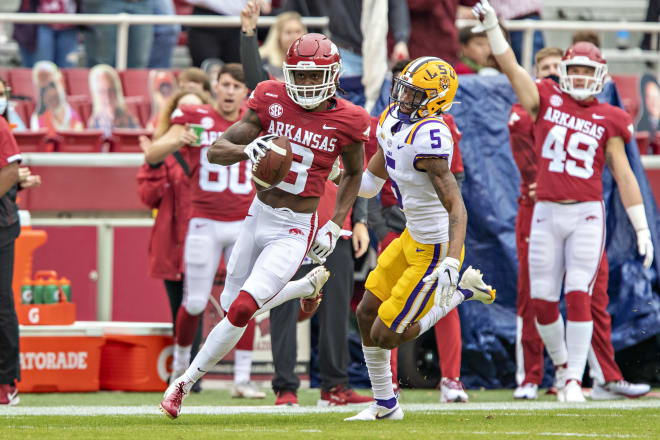 FARRELL'S TAKE: FICTION
Mike Woods, the tall and electric receiver who transferred from Arkansas to Oklahoma this week, joins an impressive group of wideouts in Norman with Jadon Haselwood, Theo Wease, Marvin Mims and freshman Mario Williams.
However, the Sooners' receiver group still falls short of that of the Buckeyes.
Ohio State has two emerging superstars in freshmen Emeka Egbuka and Marvin Harrison Jr. to go along with Chris Olave, Jaxon Smith-Nigba and Garrett Wilson. This was a debate last week between the Buckeyes and the rest of the country, and the addition of Woods makes it closer.
Josh McCuistion of our Oklahoma site SoonerScoop.com agrees that the Sooners' receivers have a lot of potential but not enough proven talent to top the Buckeyes.
RELATED: Sooners add Woods
SHARE YOUR THOUGHTS WITH OKLAHOMA FANS AT SOONERSCOOP.COM
*****
3. Matt Corral and Braylon Sanders will be the most dangerous duo in the SEC.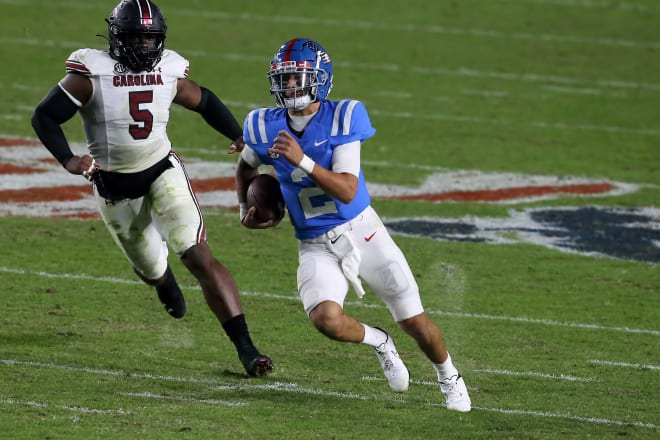 FARRELL'S TAKE: FACT
This is hard to say based on the spring and Braylon Sanders has had injury issues but you're talking about the most exciting quarterback in the SEC paired with the answer for the loss of Elijah Moore in Sanders if he's healthy. Sanders had four catches for 135 yards and a score while Matt Corral threw for more than 200 yards and two touchdowns in one half of the spring game.
With George Pickens injured, the JT Daniels-to-Pickens duo is off the list and there are new quarterbacks at Alabama, Texas A&M and Florida. This Rebel duo has the lead now.
SHARE YOUR THOUGHTS WITH OLE MISS FANS AT REBELGROVE.COM
Source: Rivals.com