Rivals national recruiting director Adam Gorney along with Paul Strelow of TigerIllustrated.com, Michael Langston of Warchant.com and Jake Reuse of UGASports.com tackle three topics in recruiting and determine whether they believe the statements or not.
*****
RANKING THE CONTENDERS: Aliou Bah | Jacoby Mathews
CLASS OF 2022 RANKINGS: Rivals250 | Position | Team | State
CLASS OF 2023 RANKINGS: Rivals100
RIVALS TRANSFER TRACKER: Stories/coverage | Message board
RIVALS CAMP SERIES: Info/coverage on 2021 camp series
*****
1. Georgia is slipping as the front-runner for
five-star DL Mykel Williams.
Gorney's take: FACT. I still think Georgia can land Mykel Williams even though he was expected to pick the Bulldogs recently and delayed his decision because the five-star defensive end was not sure about his pick. But there is a whole lot more competition in his recruitment now and I'm hearing Alabama is stepping it up with Williams as well along with USC, Ohio State and others. There is absolutely a good chance Williams ends up in Athens but the Bulldogs could be slipping a little bit and I'd watch Alabama if it steps it up even more.
Reuse's take: FICTION. There may have been some concerns that Georgia could be falling for Williams after he decided to push his commitment date forward, but I still consider the Bulldogs the odds-on favorite for his services as of today. The in-state factor is playing large, the staff is making him a major priority, and it seems as though Georgia has done a strong job recruiting his family, as well. USC is a real threat, and LSU and Ohio State are major players as well. Visits could certainly shift the notions, but ahead of that, I tend to think Georgia gets this one done in the end, thanks to immense push both on campus and among their committed recruits.
SHARE YOUR THOUGHTS WITH GEORGIA FANS AT UGASPORTS.COM
*****
2. Clemson will land Daylen Everette, Toriano Pride and Ryan Turner,
who all visited for the spring game.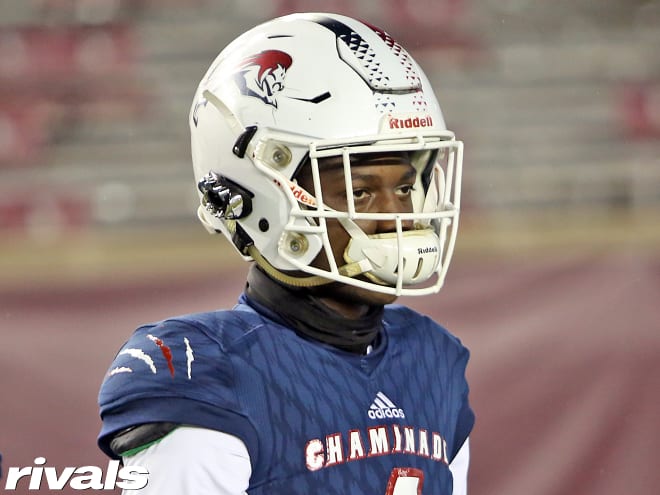 Gorney's take: FICTION. I would not be surprised if Clemson ends up landing Daylen Everette and Toriano Pride but Ryan Turner seems to be the toughest sell for me right now. A South Florida kid, Turner seems to really like Ohio State and the city vibe in Columbus compared to Clemson which is definitely more of a rural setting. Pride is a tough call here because Ohio State is also involved and so is Missouri and I've been told his list really remains longer than others. Lukus almost feels like a sure thing for Clemson and then I think the Tigers could land two others but not all three names above.
Strelow's take: FICTION. It's not that Clemson isn't in the legit running for all three. But any rundown of the Tigers' predicted cornerback haul has to start with Mauldin (S.C.) four-star Jeadyn Lukus, a priority target in their crosshairs.
Position coach Mike Reed has shown to be impressively efficient with what he gets. But this might be the year they take three because of a dire need, having just gone through the spring game with only three healthy scholarship options. The Tigers might have the edge over Ohio State and Missouri for Pride, who would complement Lukus as a field corner. We'd perhaps give the Buckeyes the advantage for Turner.
Everette is more the wild card. Clemson began pushing for him as a national guy well before the other suitors in its stratosphere came calling. So the Tigers have a prominent seat at the table, but there's still considerable work to be done.
SHARE YOUR THOUGHTS WITH CLEMSON FANS AT TIGERILLUSTRATED.COM
*****
3. Former Virginia pledge Rodney Hill is headed
to Florida State for sure.
Gorney's take: FACT. I'd be very surprised if Rodney Hill ends up anywhere else. A few weeks after landing the Florida State offer, the three-star athlete backed off his Virginia pledge but it was telling once the Seminoles offered it looked like it would be tough for the Cavaliers to hang on. It was clear when FSU offered that Hill was highly interested and while Virginia is going to try to hang on and get him back in the class, a pledge to Florida State could be coming soon. If Hill ends up anywhere else, it would be a major shock at this point.
Langston's take: FACT. I would say things look quite good here for FSU. Ever since the Seminoles offered this recruitment has been turned upside down and they have been the focus. I would not be surprised if you see a commitment this weekend after the spring game which he's expected to attend.
FSU wants two backs in this class. At this stage Hill and Jaylon Glover look like the guys to watch here at RB. There are a lot of reasons I like FSU. First is Hill's grandmother, who prefers and loves Florida State. Next, Hill has close ties to Seminoles players Curtis Fann and TJ Davis, both from Georgia. Next, Hill has a great relationship with offensive coordinator Kenny Dillingham. This one looks good for Florida State.
SHARE YOUR THOUGHTS WITH FLORIDA STATE FANS AT WARCHANT.COM
Source: Rivals.com