Rivals National Recruiting Director Adam Gorney and recruiting analysts Adam Friedman and Josh Helmholdt along with Nikki Chavanelle from HawgBeat.com tackle three topics in recruiting and determine whether they believe the statements or not.
1. After seeing both in Indianapolis, Gabe Powers could make an
argument as the top outside linebacker in the 2022 class over CJ Hicks.
Gorney's take: FICTION. I like Gabe Powers a lot but the concern here is that he continues to get bigger and has to move to defensive end where we don't know how he'd perform there. My guess is he would be phenomenal and he showed in Indianapolis that he can stay at outside linebacker and cover but CJ Hicks is just a more dynamic athlete. Hicks is so fast off the edge, getting into the backfield, playing in space and there's something to be said when a linebacker is back catching punts and making plays. In today's game where athleticism and speed mean so much, I'm still going to side with Hicks even though I recognize Powers is outstanding as well.
Friedman's take: FACT. Powers and Hicks were really outstanding in Indianapolis on Sunday. If I were to judge them just on that one performance, Powers has the edge. He was quicker and more patient in coverage than Hicks was and he made more plays on the ball. On film, Hicks might play a little faster than Powers but the difference there is marginal. They're different players that will fill separate roles for Ohio State but Powers looked like the more special prospect on Sunday. There will be a lot of debate about the linebacker rankings in the upcoming rankings meeting.
SHARE YOUR THOUGHTS WITH OHIO STATE FANS AT BUCKEYEGROVE.COM
*****
2. Cayden Green could be the best offensive tackle in the 2023 class
not named Kadyn Proctor.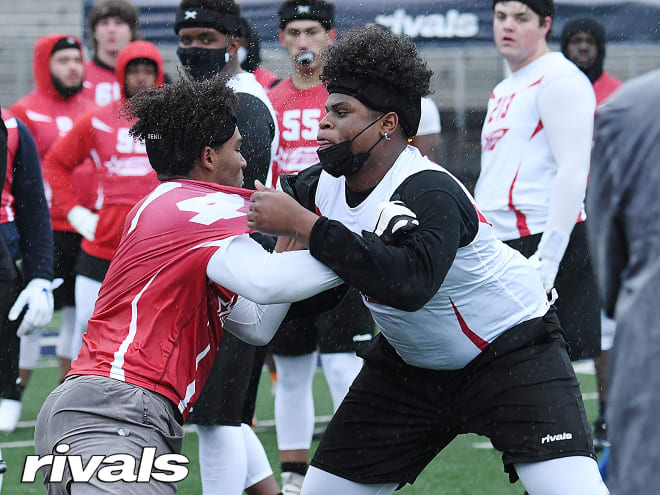 Gorney's take: FICTION. It could be Cayden Green and I like him a whole lot but the 2023 rankings are just taking shape and there could be a ton of movement at every position in the coming months. Green was great at the Indianapolis Rivals Camp but I would like to see him against more elite players nationally before I sign off on him as one of the top two offensive tackles in this class. T.J. Shanahan could be up there, although he might move inside, Chase Bisontis can play across the offensive line and there are others as well. By no means am I discounting Green's ability but others are in the mix, too.
Helmholdt's take: FACT. I have seen each of the offensive tackles currently ranked in the top five at the position, and Kadyn Proctor is the only one who I would say has a higher ceiling. Green may not be as far along from a technical or experience standpoint as, say, a Miles McVay or T.J. Shanahan, but there is plenty of time for that development and he has shown the tools and passion to realize his potential.
*****
3. It would be a shock if DE Nico Davillier did not end up at
Arkansas.
Gorney's take: FACT. I've been told that Arkansas is definitely the front-runner in his recruitment and I have no reason to believe the Razorbacks won't win out in his recruitment. He's an in-state prospect, he's been recruited hard by the coaching staff and other players in the class including those close to him and Nico Davillier has long held Arkansas high on his list. It could be a major steal for coach Sam Pittman and his staff as well because at the Rivals Camp in Dallas, Davillier was one of the best defensive linemen there.
Chavanelle's take: FACT. Davillier has been top of the board for Arkansas at the position both because of his skill and because he's an in-state kid. The staff and commits have been recruiting him hard, including his teammate Andrew Chamblee. Though he's still planning to take an official visit to Nebraska, I just can't see him turning down the Hogs. If he does commit, Arkansas will have the largest number of in-state grabs since the 2015 class.
SHARE YOUR THOUGHTS WITH ARKANSAS FANS AT HAWGBEAT.COM
Source: Rivals.com