In today's Fact or Fiction, I look at three big recent topics in college football and decide whether the statement is indeed FACT or if it's FICTION.
1.  Wisconsin's traditional run-first, power offense will slowly change with Barry Alvarez stepping down.
FARRELL'S TAKE: FACT
This will slowly happen as offenses continue to evolve around the country and Graham Mertz shows that quarterbacks can lead a pass-first offense at Wisconsin. Barry Alvarez loved the big linemen and ground-and-pound run game and Bret Bielema and Paul Chryst have followed suit, likely with some of Alvarez's input. But eventually the Badgers will open things up more.
However, the reviews were mixed on The Badgers' Den message board on our Wisconsin site BadgerBlitz.com as many feel Alvarez will still have a hand in football even after retiring while others think, after Chryst, anything can happen.
SHARE YOUR THOUGHTS WITH WISCONSIN FANS AT BADGERBLITZ.COM
*****
2. Emory Jones will win the Florida QB job.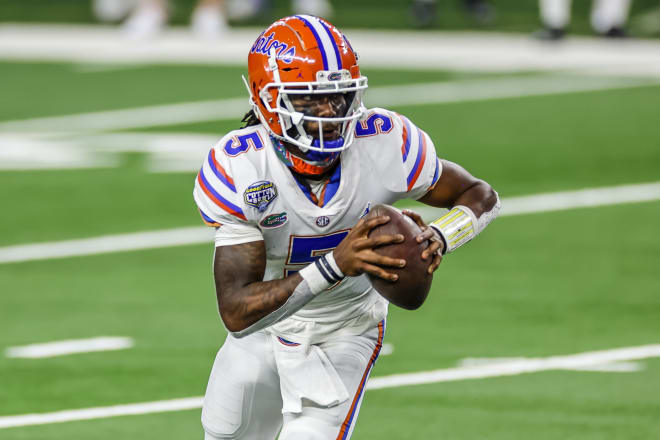 FARRELL'S TAKE: FACT
Anthony Richardson will make a push but my feeling is that Emory Jones will be the clear No. 1 quarterback at Florida by the end of spring practice. That doesn't mean Dan Mullen will avoid playing the backup in spots, as he did that even with Kyle Trask, but Jones is the 2021 future. The fans on the Gators Blue Board at our Florida site GatorsTerritory.com agree as well.
SHARE YOUR THOUGHTS WITH FLORIDA FANS AT GATORSTERRITORY.COM
*****
3.
Mac Jones will go No. 3 overall in the NFL Draft. 
FARRELL'S TAKE: FACT
This is my guess as the San Francisco 49ers made their big trade with the Miami Dolphins to move up to No. 3 before Justin Fields' Pro Day. Why move up before you get to see Fields again? We know Trevor Lawrence is going No. 1 overall to the Jacksonville Jaguars and Zach Wilson is going No. 2 to the New York Jets. So my assumption is that Mac Jones will be pick No. 3 unless it's Trey Lance.
However, the man who has been correct the most on Jones is BamaInsider.com analyst Tony Tsoukalas, who made me look dumb last year when he backed Mac as a Heisman candidate and a first-rounder while I said Bryce Young would win the job. And Tony thinks the 49ers would have traded up with the Eagles or Lions at No. 6 or No. 7 instead of No. 3 to get Jones as most have Mac as the fourth- or fifth-best QB in the NFL Draft. But he said if they did trade up to No. 3 to get Jones they are smart, and I'm not doubting him anymore when it comes to the Alabama QB.
SHARE YOUR THOUGHTS WITH ALABAMA FANS AT BAMAINSIDER.COM
Source: Rivals.com