National recruiting director Mike Farrell and national recruiting analyst Adam Gorney tackle three topics daily and determine whether they believe the statements or not.
1. 
Alabama leads for WR Kevin Coleman. 
Farrell's take: FACT. Kevin Coleman came out with a top eight of Alabama, Oregon, USC, Texas, Georgia, Penn State, Florida State and Arizona State and all of them are in the mix but i keep hearing Alabama more and more each time I try to dig a bit. No one seems to have a regional advantage here but the way Alabama is putting wide receivers into the first round it's likely its potential lead could increase after the NFL Draft when DeVonta Smith and Jaylen Waddle are selected.
Gorney's take: FACT. I talked with Coleman at the Pylon event in Bullhead City, Ariz., on Saturday night and he said Alabama definitely has the edge in his recruitment. The five-star receiver made sense when he said to look at all the receivers Alabama has produced over the last decade and none of them have been busts. That's going to go a very long way with Coleman but he also said his top eight was a list of programs that had been showing the most interest and that he remains open to others.
MORE: Gorney's takeaways from Pylon 7-on-7
SHARE YOUR THOUGHTS WITH ALABAMA FANS AT BAMAINSIDER.COM
*****
2. DeVonta Smith will be drafted
ahead of Ja'Marr Chase.
Farrell's take: FICTION. Speaking of DeVonta Smith, after his Heisman Trophy season many just assumed he would be the top wide receiver taken in the NFL Draft but many also simply forgot about Ja'Marr Chase, who opted out of last season. Chase is as explosive as Smith, he's bigger and his 2019 season compares well with Smith's 2020 season. Chase will be taken first at the wide receiver position and might not get past pick No. 3 and the Miami Dolphins.
Gorney's take: FACT. Smith, Chase and Jaylen Waddle should all be early first-round draft picks and could go within the first dozen picks, and it's still anyone's guess which order it will happen. But Smith should be drafted first because his college resume is far better and he has a longer track record of dominance at the highest level. Plus, fairly or unfairly, I do believe some NFL teams will question Chase's decision to sit out this season, which could also favor Smith, who has had back-to-back incredible seasons for the Crimson Tide.
SHARE YOUR THOUGHTS WITH LSU FANS AT TIGERDETAILS.COM
*****
3. Kendall Milton will be the
breakout running back in the SEC next season.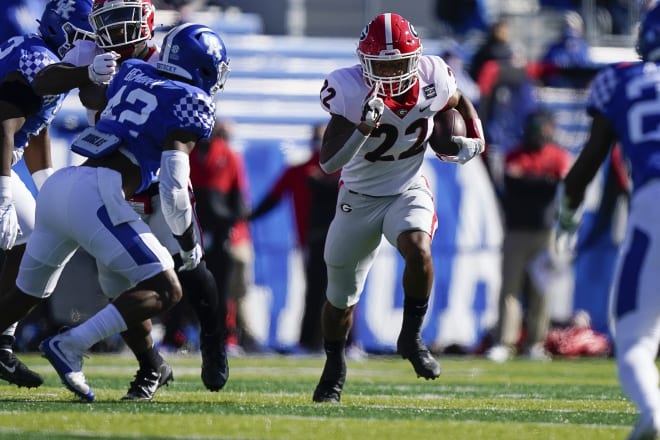 Farrell's take: FACT. There are many candidates, like Demarkcus Bowman at Florida, MarShawn Lloyd at South Carolina and Jase McClellan, that could be considered breakout candidates in 2021. I think Kendall Milton is the choice here because, even with Zamir White back, we all know Georgia uses a two-back system often. Milton could easily rush for 800 or more yards, even with James Cook in the backfield as well. Milton showed amazing flashes in limited time last season.
Gorney's take: FICTION. Florida has a bunch of impact players returning at running back but none of them provide that home-run threat of Bowman, who should be a welcome addition in coach Dan Mullen's attack. Mullen is one of the best play-callers in college football so it's expected Emory Jones will be at quarterback and I foresee Bowman getting a lot of touches not only at running back but in space to let the former five-star use his speed and athletic ability to the Gators' advantage. Milton should be phenomenal as he continues to mature in Georgia's backfield. I also like Lloyd's chances coming off an injury to be a star for the Gamecocks but I'm going with Bowman mainly because of Mullen's play-calling capabilities.
SHARE YOUR THOUGHTS WITH GEORGIA FANS AT UGASPORTS.COM
Source: Rivals.com